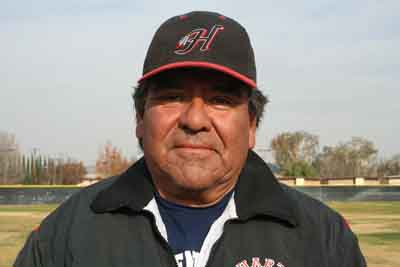 Coach Reyes, a fixture on the coaching staffs of the lower levels at Hart for the past 16 years, returns to assist the freshmen level in 2017.  Coach Reyes, a former LA CITY Fireman, has guided numerous Hart players to the varsity level, and the Varsity staff appreciates all of his efforts through the years.  Coach Reyes' four children were all Hart graduates, and the Reyes' family truly bleeds Hart Red and Black.
"Bob has been a great lower level coach for us through the years, and his dedication to the players is unmatched.  The players realize Coach Reyes' knowledge of the game and his passion for coaching instills in them their best effort, and he is greatly valued," said Coach Ozella. "Coach Reyes is extremely positive even in the lowest times, and his optimism passes on to the players during difficult times."
Reyes, a former ALL-CIF catcher at St. Genevieve, is married to Patty, and the Reyes' children were all former student-athletes at Hart.  CJ, Robbie, and Adam were outstanding student-athletes while Amanda played soccer for award winning Hart teams.