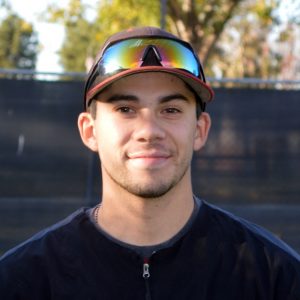 Former Indians' catcher Brad Meza joins the Hart coaching staff for 2018, and Coach Ozella is thrilled to witness another Meza in the Hart coaching staff.  Coach Meza last two seasons in the Red and Black were championship years in the Foothill League for the Indians, and Coach Ozella hopes Coach Meza' championship pedigree rubs off on the Frosh players on the freshmen level.  Coach Meza will join Coach Pieper on the frosh level, and the excitement from the coaching dugout should propel the Indians to greater success.
"Brad joining the staff is a huge bonus for our players.  Brad was an achiever in his years at Hart, and not surprisingly, he was on championship teams three years in high school.  Brad was a hard worker at his craft, and that type of guidance will encourage the players to reach greater heights.  Coach Pieper has been thrilled with Brad's input, and the young players will really grow on that level," said Coach Ozella.
Coach Meza played on the Northern Arizona Lumberjacks in the NCBA while at school for his two years, and he has moved into the Santa Clarita Valley work force by working at THE LOCAL and OPES financial solutions.  Brad's final season at Hart, the Indians proceeded to the CIF D1 final at San Bernardino against Huntington Beach, and Brad's efforts were highly respected by his teammates and the coaching staff.