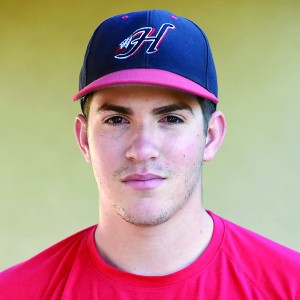 Coach Brett Villalovos joins the JV coaching staff in 2017, and the Hart Baseball program is excited to gain another hard-working and dedicated Villalovos' brother to the coaching mix.  Coach Villalovos played in the Hart program on the lower levels, and actually played for his brother in his younger years in the program, and then moved into assisting the varsity level with his comprehension of statistical data. 
"The addition of Brett to the coaching mix on the JV level will provide the players with another excellent role model, and the necessary guidance needed on that level of progression," said Coach Ozella.  "Coach has grown into a mature adult with an excellent insight into the game, and his talents will be highly utilized.  Brett has studied the game, and will relate well with the young players on the JV squad."
Coach Villalovos is currently studying kinesiology at COC, and his goal is to be a physical therapist or teacher in the near future.  Coach Villalovos has scouted numerous times through the years for the Hart program, and has especially been valuable with his insight of opposing playoff teams in the CIF D1 playoffs.  Brett, 21 in March 2017, currently resides in Valencia and also works at Wood Ranch.