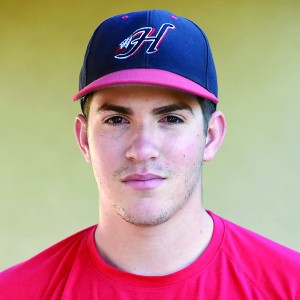 Brett Villalovos starts his second season on the JV staff as an assistant coach, and the long-time Indian has filled various roles in his years in the Hart Baseball program.  Coach Villalovos, during the past summer, was a consistent sight at the summer morning class and assisting Team Two in their development during summer games.  Coach Villalovos played in the lower levels at Hart for his brother Ryan, and later moved to assist the varsity with statistical analysis.
"Brett has been in the program working to help the players' development from the youngest players and guiding them on the correct way to play the game.  Numerous times in the past, Brett has scouted for us during the playoffs, and his knowledge and insight has assisted us in the next game.  I have always been highly impressed with his willingness to sacrifice for the program," said Coach Ozella.
Coach Villalovos is currently progressing on his teaching qualifications, and has worked at Wood Ranch for the past years.  Coach Villalovos is excited to coach this years' JV team since he has witnessed the younger players' performance in the summer, and the Valencia resident truly believes the future is bright for Hart Baseball.