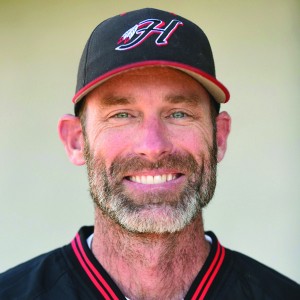 The Hart Baseball program welcomes Craig William to the JV coaching staff, and former three-sport star at Buena High School is excited to be guiding Hart's future stars.  Coach Williams was involved in the Hart Baseball Program two summers ago as an Assistant Coach in the summer program while Coach Ozella coached the Walla Walla Sweets, and Coach Ozella is truly excited for his full-time involvement in 2017.  Coach Williams lettered in baseball, basketball and cross country while attending Buena HS in Ventura, and continued his baseball playing career by pitching at UC Davis for two seasons.  Coach Williams taught Social Studies and coached baseball/ cross country at Wasco High School in Kern County for 10 years, and his experience will be valuable to the Hart players.
"I have been chasing Coach Williams for years now to be a coach in our program, and I am excited for addition to the staff.  Coach Williams is a top-flight teacher, and I know his passion for teaching will only assist our players on the field," said Coach Ozella.  "Craig's approach of being up front and honest with the players regarding their talents and needs works very well in our program, and our players will truly appreciate his efforts."
Coach Williams began his Hart teaching career in 2012, and his instruction in AP US History and World History is highly respected.  Coach Williams and his wife Tami have been married for 16 years, and Tami works at Henry Mayo and Kaiser Permanente as a registered dietitian and diabetes educator.  The Williams family is blessed with three children.  Emma, 13, attends 8th grade at Placerita Junior High, while Cole, 10, and Natalie, 6) attend Valencia Valley Elementary.