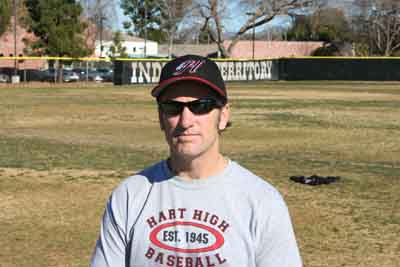 Head Coach Joe Pieper returns for his second season at the helm of the Freshmen squad, and the Indians are excited to head into action.  Coach Pieper, a former outfielder at College of the Canyons under legendary Head Coach Mike Gillespie, motivated the frosh squad in 2016 to develop into future stars in the program and Coach Pieper's energy sweeps the team to further success.
"Coach Pieper was a pleasant addition last year, and his energy and excitement is contagious for the program.  Joe learned from Coach Gillespie years ago the fundamentals of the game, and he now passes that passion on to our young players," said Coach Ozella.  "Joe's dedication to the players shows a truly special individual interested in the welfare of the program."
Coach Pieper serves as a real estate developer and project manager for Boulder Builders, and was a veteran of the US military actions during Operation Desert Storm.  Coach Pieper's three children provide a busy life for Coach on his leisure time.  Megan, 23, is pursuing her masters' degree in Psychology, while recent Hart graduate Evan is attending UC Santa Barbara as an engineering major.  Caitlin, 15, plays on the varsity soccer team as a sophomore.