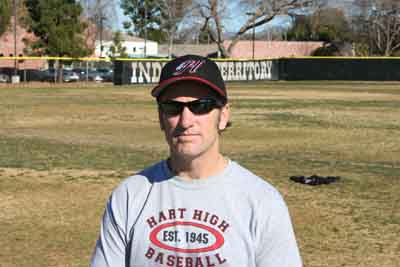 Head Coach Joe Pieper starts his third year on the Frosh level for the Indians, and Coach Pieper's unmatched enthusiasm for guiding the freshmen has been a source of pride among the Hart coaching staff.  Coach Pieper, a former outfielder for Coach Mike Gillespie at the College of the Canyons, is a constant fixture at Hart practices and his energy rubs off on his players.  Coach Pieper's motivation for success with the frosh team inspires his team to reach to their highest levels of performance.
"Coach Pieper has been the head coach on the frosh level for two years now, and his players are always working hard to improve their skills and we have seen a number progress to the varsity level.  That is exciting to witness, and that improvement comes from Coach Pieper's passion for the game.  Make no mistake, Coach Pieper played for Coach Gillespie, and his mentorship is very evident," said Coach Ozella.
Coach Pieper has been a real estate developer and project manager for Boulder Builders, and was a veteran of US military actions during Operation Desert Storm.  Coach Pieper's three children provide numerous outside interests for his free time, and Coach Pieper is a serious fan of the Hart girls' soccer team since his youngest daughter, Caitlin, plays soccer for the Indians.  Meghan, 24, is pursuing her master's degree while Evan attends UC Santa Barbara as an engineering major.