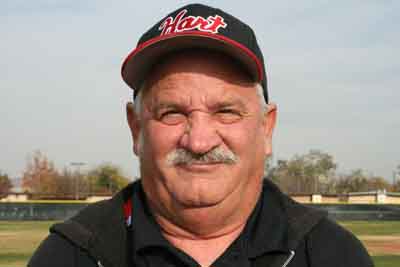 Larry Fiscus begins his 41st year at Hart High School, and his involvement in the baseball and football programs through the years has been a source of pride for all within in the Hart community.  Fiscus has been the scoreboard operator at all Hart Baseball games, and maintains the equipment/ uniforms for the two Hart programs.  The success of the Hart sports programs through the years usually has Larry Fiscus cheering for his alma mater, and his smile has warmed the hearts of Hart fans in the stands. 
"Larry is a legend at Hart HS.  He is a source of friendship to the players and coaches, and his warm smile and laugh are greatly appreciated.  Larry ventures into my classroom or to the field, and once he enters the room or field, he radiates with stories and laughs for everyone.  His personality makes my day complete, and the players love his expressions and stories," said Coach Ozella.
Fiscus was selected for the Hart Baseball Wall of Fame in 2004, and the honor was greatly deserved for his lifetime of effort in the program.  Fiscus owns 10 championship rings from his years on the Hart sidelines, and the yearly Alumni game tests Larry's memory of past players' uniform numbers and past stories.  Fiscus resides in Saugus, and still laughs at feeding Coach Ozella's dog Georgie "steak and lobster".