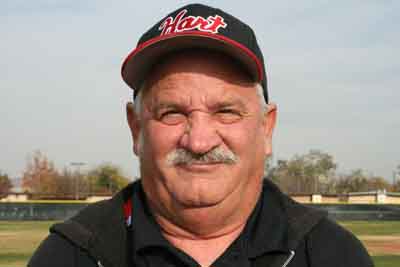 Larry Fiscus returns for his 38th season with Hart HS Baseball, and the multi-talented Fiscus can't wait for the warm weather of spring to grace his press box once more. Fiscus, a resident of Saugus, maintains the press box area during games as he handles the scoreboard operations, and provides the Hart history with his ever-present smile. Fiscus, often known as the "Legend of Newhall" by local media, has been in charge of team equipment as well during the years, and is the proud owner of 10 CIF rings through his years of involvement in the football and baseball programs.
"The smile and stories of Larry Fiscus continue to shine upon our players and the coaching staff, and my day becomes a better day when Larry enters the room," said Coach Ozella. "I am so proud to be a part of a school and program where quality personalities like Larry are alive and glowing".
Fiscus was selected to the Hart Baseball Wall of Fame in 2004, and his selection was truly one for the ages. Fiscus' dedication to Hart HS is unparalleled, and the honors he receives for his hard work through the years are much deserved.