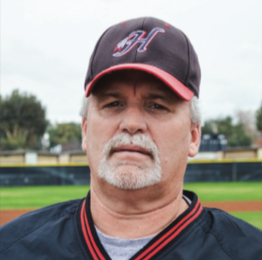 The former LA Polytechnic Parrot, Coach Matt Elser starts his sixth season in the Hart Baseball uniform and the former Pepperdine Wave left-handed pitcher is truly excited for the 2017 season.  Coach Elser joined the varsity staff last year after serving on the lower levels, and Coach Elser believes this group of Hart varsity players are ready for a breakout season.
"We are truly blessed to have the dedication and efforts of Coach Elser in our program.  His daily contributions are demonstrations of his passion for baseball, his passion for coaching and his passion for the Hart Baseball community," said Coach Ozella.  "Coach Elser has worked with this group of players through the years and I know he is truly excited to see the players' hard work be highlighted on the field."
Elser pitched for Pepperdine and Long Beach State in his collegiate career, and his 7-1 record led the Waves to a 3rd place finish in the College World Series.  Coach Elser, drafted out of Poly by the Chicago Cubs after being selected LA City Player of the Year, has been married to Kelly for the past 31 years, and the Elser family is blessed with two outstanding children.  Brittani, a former standout volleyball player at Hart HS and Pierce JC, has begun a coaching career at the high school/ club level and studies Special Education at CSUN.  Matt, their son, returns to the Hart Varsity in 2017 as a starting catcher after playing first base last year.