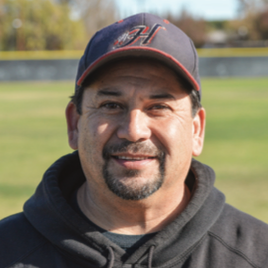 Coach Patrick Meza starts his fourth season on the freshmen squad, and the long-time Santa Clarita Valley resident desires another successful season for the Indians. Coach Meza's passion and dedication to the program has been a valuable addition for the young players on the frosh level, and the former veteran of the US Army and the Army National Guard is excited for the upcoming season.
"Coach Meza has been in the program, his son Brad played for us at a high level, and he realizes the efforts needed to be successful.  Pat guides our young player by being a great role model, and his leadership is valuable," said Coach Ozella.  "Brad was a chip off the old block, the kind of player we desire all of our student-athletes to achieve, and obviously Pat guided him in the proper direction."
Coach Meza has been married to Gina for 31 years, and the Meza Family has four special children.  Patrick and Kristin were former student-athletes at Hart in football and cheerleading, and Brad is interested in the teaching/ coaching field at Northern Arizona University.  Coach Meza's youngest son, Ricky, plays football and baseball at Hart on the freshmen level.  Coach Meza, a two-sport star in football and baseball in high school, coordinates a local title insurance branch.