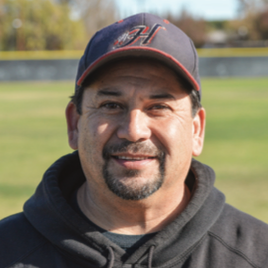 Coach Patrick Meza moves to the JV level for his fifth year in the program, and the long-time Santa Clarita Valley resident is excited to be assisting the Villalovos' brothers on the JV level. Coach Meza worked on the frosh level for the past four years, and his guidance and direction of the youngest Indians was impressive in teaching the Hart Baseball system.  The former veteran of the US Army and Army National Guard has been a valuable asset for the lower levels in the past years, and Coach Meza's experience will guide the JV team to further success.
"Coach Meza is valuable to the program due to his insight into the fundamental approach to play the game.  Coach Meza believes in taking the proper steps to success, and his guidance will be very important to our players moving to the next level.  Hopefully, the players will apply the lessons into becoming most importantly, quality student-athletes for Hart HS," said Coach Ozella.
Coach Meza has  been married to Gina for 32 years, and the Meza family has been blessed with four children.  Patrick and Kristin were former student-athletes at Hart in football and cheerleading, and former Hart Baseball player Brad will be joining the staff during the 2018 season on the freshman level.  Coach Meza' youngest son, Ricky, plays on the JV level.  Coach Meza, a two-sport star in football and baseball in high school, coordinates the Lawyers Title Company in Burbank.