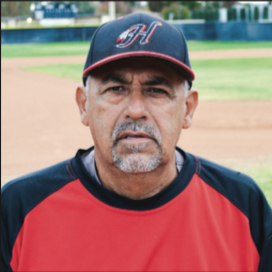 Coach Rich Hernandez starts his 21st season at Hart HS this season, and the veteran assistant coach desires another Foothill League title and a return to the competitive CIF D1 playoffs.  Coach Hernandez was honored in the 2015 season with his selection to the Hart Baseball Wall of Fame for his countless efforts in his years of coaching service, and the first base coach believes this year's Hart Baseball squad can continue the success of the Hart Baseball tradition.
"Coach Hernandez is both one of the most popular coaches in the program and one of the most demanding coaches in the program.  Coach establishes high standards for the players, and expects the players to achieve with their dedicated efforts," said Coach Ozella.  "I believe that is the reason for Coach Hernandez' popularity among our players since they desire the same goals as Coach."
Coach Hernandez, a retired U.S. Postal Service Supervisor in Santa Clarita, still jams hitter's bats with his pitching, and also works with the catchers on a regular basis.  Coach Hernandez and his wife Gracie still reside in the hills of Saugus, and their sons Brian and Brandon both played baseball in the Santa Clarita Valley in their younger days.  Brian was a top-flight right-handed pitcher for the Indians in the 1996 and 1997 seasons, and Brandon played first base and pitched at Saugus.