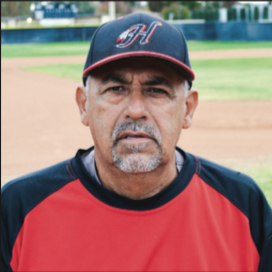 Veteran assistant coach Rich Hernandez begins his 22nd season for the Indians, and the players are excited for his return to the competitive Foothill League and CIF D1 coaching box.  The veteran first base coach has witnessed countless Hart Baseball highlights, and this season should add memories for the Saugus resident.  The Dugout Club honored Coach Hernandez for his dedicated service by his selection to the Hart Baseball Wall of Fame in 2015.
"Coach Hernandez has a demanding style of coaching that expects the players to reach their goals, both as an individual and as a team.  I am grateful for the dedication through the years, and his efforts have helped put Hart Baseball on the CIF Baseball map.  I know the players are excited to achieve their goals, and Coach motivates them to their glory," said Coach Ozella.
Coach Hernandez, a retired U.S. Postal Service supervisor in Santa Clarita, and his wife Gracie reside in Saugus, and their sons Brian and Brandon both played baseball in the Santa Clarita Valley in their youth.  Brian was a top-notch pitcher for the Indians in 1996-97, while Brandon played at rival Saugus.  Coach Hernandez regularly works with the hitters, and the catchers on the continued development of their game.