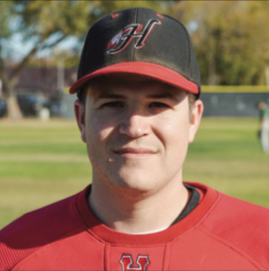 Coach Villalovos returns for his 10th season on the Hart Baseball staff, and will again coordinate the JV program as their Head Coach.  Coach Villalovos has been a head coach and assistant coach on each of the lower levels, and his direction prepares the young Indians for a bright future on the varsity level.  The former Valencia catcher prides his teams on being fundamentally sound and developing the players to adjust to every situation, and the 2017 squad should provide plenty of excitement for Hart fans.
"Coach Villalovos has been a major factor in the success of the program through the years since he demands the players to reach high levels of success, and pushes those players into being quality student-athletes," said Coach Ozella.  "Coach is very qualified in the coaching field, and his expertise in developing players has been excellent.  The JV team is blessed to have his guidance."
Villalovos, who resides in Valencia, works as an assistant project manager for Krismar Construction and will be assisted by his brother Brett and Coach Craig Williams.  Ryan's brothers Jeremy and Bret were highly involved in the Hart program in past years, as Jeremy played on the varsity in 2009 and Bret played on the lower levels before moving into the statistical data director for the Indians.  Ryan's parents, Rick and Joy, are long-time Indian baseball fans.