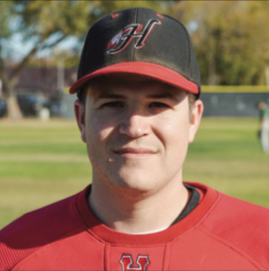 Coach Villalovos begins his 11th season in the Hart Baseball program as he returns to head the JV team in their development.  Coach Villalovos has been an assistant and head coach on the lower levels, and his guidance assists players in progressing to the varsity level in future years.  Coach Villalovos' teams at Hart have been consistently sound fundamentally, and his direction leads players in their preparation for a successful season. 
"Coach V's teams have been motivated to achieve, and the players have developed from the JV level to the varsity level on a consistent basis.  The young players need to continue to develop at the JV level since they are still physically and mentally developing in the game, and Coach has prided his teams in having the hunger to achieve," said Coach Ozella.
Coach Villalovos, a former Valencia catcher, works for Krismar Construction as a project engineer. The JV staff will be a group effort since Coach Villalovos' brother Brett and Coach Pat Meza will be assisting on the JV level.  Ryan's younger brother Jeremy played for the Indians in 2009, and Brett played on the lower levels before becoming a statistical data director for the Indians.  Ryan's parents, Rick and Joy, have been long-time Hart fans.