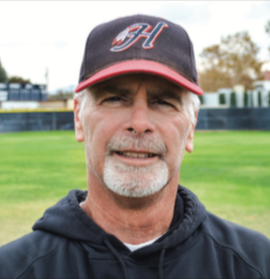 Head Coach Jim Ozella starts his 19th season in charge of the Hart Baseball program, and the veteran coach is highly enthused about the prospects for the upcoming spring season.  The Indians return numerous talented players from last year's 20-11 team, and the Hart coaching staff believes the current group's improvement should warrant even better results in 2018.
"Our squad has 15 seniors whose legacy at Hart HS can be established by ending their career on a high note, and performing to their highest level and reach all goals that they have established both individually and as a team.  I am excited to witness their continual growth as young men, and believe they can guide the younger players as excellent student-athletes role models," said Coach Ozella.  "This is the year for the group to achieve – their time is NOW."
Coach Ozella began his Hart coaching career in 2000, and his 347-178 record in Newhall is a testament to the tradition of excellence established by the players and previous coaches.  The Indians again face a demanding 2018 schedule, and the hope for a successful campaign warrants continued development through the four months toward a CIF Division 1 playoff run.  The Ozella family began over 34 years ago with the marriage of Jim and Kate, and the family continues to develop as Ryan and Ali Ozella welcomed their son Hendrix into the family, and Lauren and Alan Larson were married in October 2017.  Jessica, 27, lives in Venice and works for Reformation in Culver City.